Hey there, lucky bride! A new year is here, ushering in a new swoon-worthy wedding season. We went up and down the coasts and zig-zagged in between, and wedding experts everywhere agree: 2014 will be the year of true romance. Weddings are going softer, sweeter, lusher and more heartfelt. It's a return to classic chivalry, to the things that made our mothers cry, and it's happening just in time for you to melt hearts and make memories.
Browse the hottest trends by category:
► Flowers
► Invitations
► Food & Drink
► Wedding Cakes
► The Playlist
► The Favors
Do you already feel like a blushing bride? Carry that sweet love over to your color scheme, says Tara Guérard, the event designer behind ultra-luxe Soirée in Charleston and New York. "Pink is back!" she announces. "It's the nudes, the blushes, the peaches — not Pepto Bismol pink!"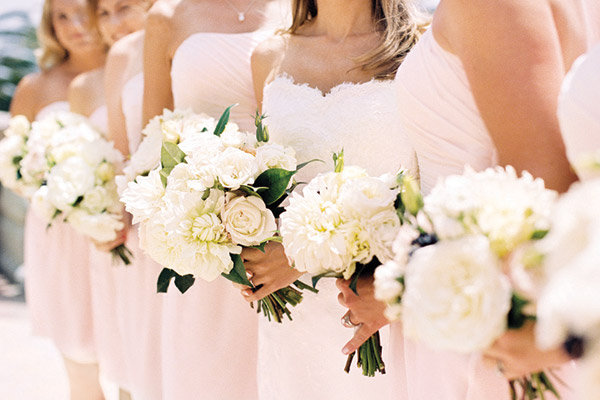 Photo Credit: Picotte Photography
The romance of the outdoors inspires West Coast brides. "I'm working in natural colors — creams, ivory, oatmeals," says Beth Helmstetter of Beth Helmstetter Events in Los Angeles. "If we're going more glamorous, brides love pops of gold right now."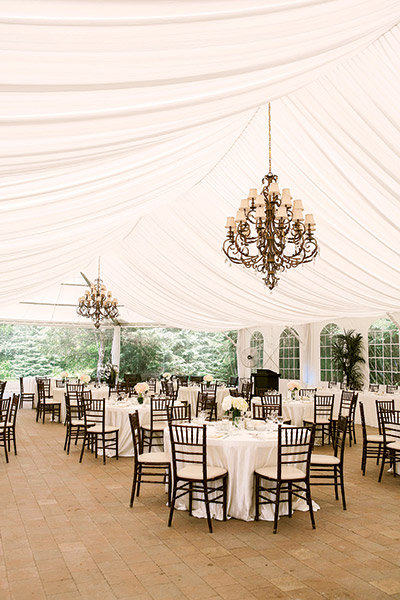 Photo Credit: Mango Studios
"Metallics are huge!" Tara agrees. She's seeing gold sugar stripes on wedding cakes, linens shot through with gold thread and one of her favorite looks — the subtle luxury of pale gold lampshades.
Think white-gloved waiters and big band dancing, crystal candlesticks and gold-rimmed china. The return to romance ushers in a new love for the formality of days gone by. One major bridal inspiration for the return to tradition comes from Hollywood. "It's the look of 'The Great Gatsby,'" says Beth. Her brides are still falling hard for the bubbly, approachable elegance of the Roaring Twenties.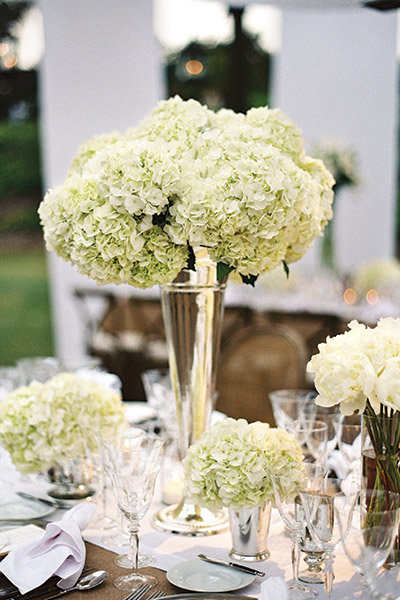 Photo Credit: Samantha Cabrera
Pattern is making a new play, but throw out the hard-edged looks. "Chevron was big last year," says Tara, "but now I'm seeing trellis-patterns, bold stripes and florals."
In a year that marks the return to romance, candles are in the spotlight. "Candelabra are huge," says Beth, "but they're not allowed in many venues." If you can't do candelabra, don't despair. Beth reports that covered lanterns are also big this year, especially in clusters of different sizes.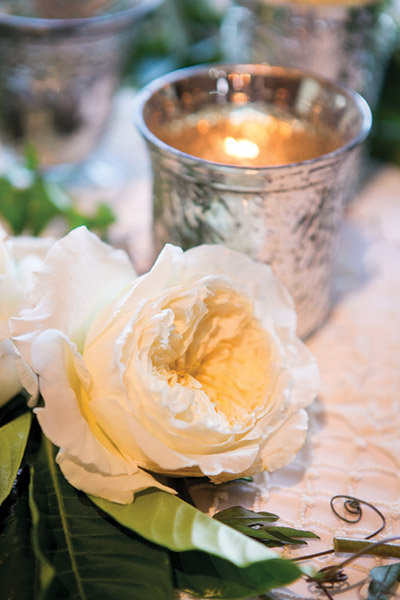 Photo Credit: Picotte Photography
Flowers
Lush, soft, Exquisitely romantic — the flower of the year is the many-petaled tree peony, says New York's Ariella Chezar, whose work has been seen at the White House. Amber Gustafson of Los Angeles's Amber Events picks a similar bloom — the sweet-smelling garden rose.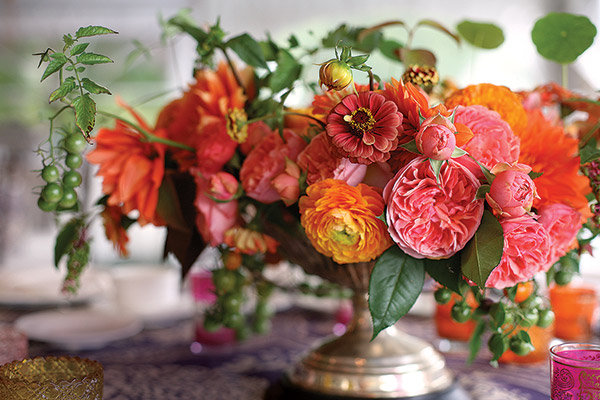 Photo Credit: Ariella Chezar
The ideal vessel for your centerpiece? Crystal and silver, says Ariella. "They feel elegant and retro at once." Amber agrees: "The containers may be ultra-formal estate pieces, but the arrangements themselves are very touchable. Full, loose groupings of garden roses, anemones, poppies, lilac."

Photo Credit: Ariella Chezar
Greens, greens, greens. No 2014 centerpiece will be complete without peeks of unusual greens. Soft vines, geranium leaves and maidenhair fern all top the must-have lists, reports Amber.
The flower garland is back in a big way. Ariella loves citrus garlands for bars and over doorways—lemons, limes, oranges on the stem. "And fern garlands are really beautiful. I love them down the center of a long table."
Invitations
We request the pleasure of your attention on the dreamiest invitation trends of the year, courtesy of Melinda Morris of Lion In the Sun, a paperie boutique in Brooklyn, New York.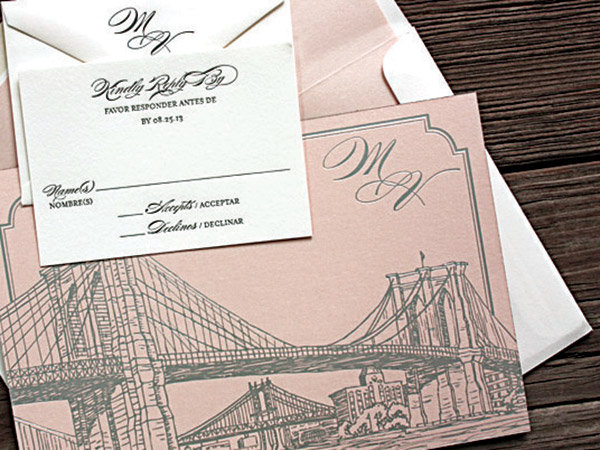 Photo courtesy of Lion in the Sun
Gleam: You've got a gleam in your eye these days, and chances are, you'll have some gleam on your invitations. Metallics are a massive trend, but they've moved on from the basic gold or silver foil stamping. Now look for rose gold or tawny bronzes to add an unexpected (yet elegant) touch.
Lace: Imagine a sleeve of delicate lace over your invitation or cutouts that make your invite look like a panel in a fl uttering paper banner. It's now possible with laser-cutting, a technique on the rise that allows you to cut intricate shapes directly into your invitation.
Hand drawing: Adorable little freehand illustrations will adorn invitations everywhere this year. These invites are completely custom, so if you can dream it, an artist can help you bring your vision to life.
Florals: For years banished to the garden, flowers are blooming on invitations once more. Imagine an old-fashioned floral calico or a vintage botanical printed in gold on the back of a letterpressed card.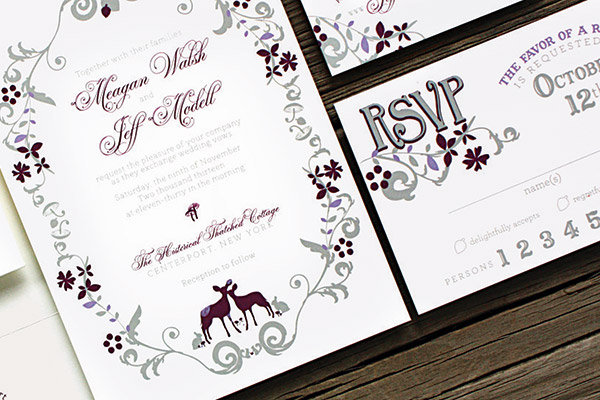 Photo courtesy of Lion in the Sun
Petites: And in the sweetest trend of all, invitations this year are getting small. The most requested look is for an invitation smaller than the standard 5x7 — something little, dainty and infinitely precious.
Food & Drinks
Slow-roasted halibut, baby Sonoma lamb chops or grilled hanger steak with tomatillo compound butter. Elizabeth Griffiths of Whoa Nelly Catering in Los Angeles says that 2014 brides have moved beyond the standard catering hall fare and expect a restaurant quality meal. "People know what constitutes quality food and want it for their guests!"
The favorite service style to capture this year's approachable elegance? While the waiters might be wearing black dinner jackets and white gloves, they're presenting food family style. "It's more interactive when everyone helps themselves," says Morris Kitchen's Karina Seljak.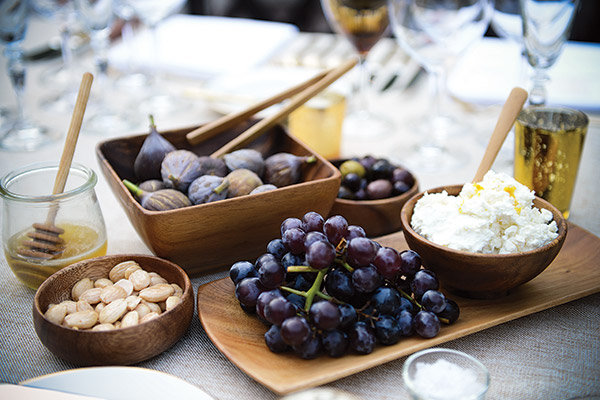 Photo courtesy of Whoa Nelly
2014 is the year to get spicy. Elizabeth reports that brides are over the Tasty mini sliders are a sure crowd pleaser. the taste moon for heat on the menu. "We using a lot of Calabrian chili oil, a lot of sriracha — and are seeing guests reach first for the spicy things on the menu."
Brides are clamoring for updates on the classics, with fresh takes on old favorites making it onto plates everywhere. Karina says that for the cocktail hour, her brides are falling for salmon blinis with crème fraiche and herbs, or raw bars with an unexpected watermelon salsa verde garnish.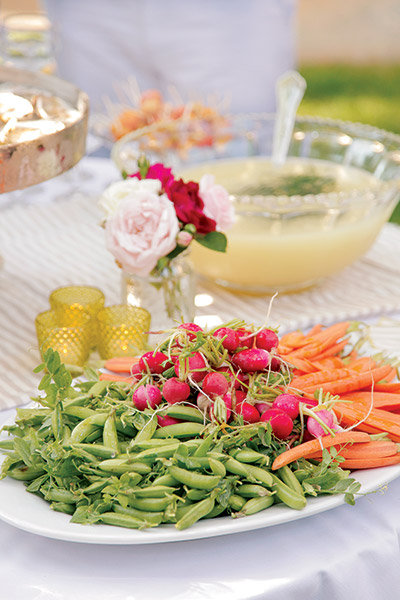 Photo Credit: Liz Banfield
Late night snacks are still a big hit, says Elizabeth. "We do fries and sliders, hot pretzels, street tacos and one of my favorites, late night churros." But be mindful of your timeline, she cautions. Unless you can stay in your venue until midnight, a late night snack is probably not right for you.

Photo courtesy of Morris Kitchen
The news on booze this year? Keep it seasonal, says Karina Seljack of Morris Kitchen in Brooklyn, New York.
Winter: Make it warm and inviting with bourbon laced with spiced apple syrup served over one extra-large ice cube.
Spring: Tap into the the season with The Flamingo: grapefruit juice, gin or vodka, hibiscus syrup and a drop of ginger and rhubarb syrup.
Summer: A spiked fruit cocktail. Try a sage liquor drink with rhubarb syrup, whole blueberries and a lemon peel garnish.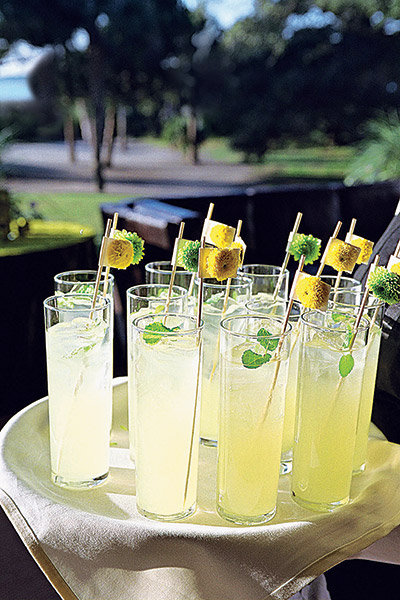 Fall: Bubbles and lemon bring out the last of the sunshine. Create a champagne cocktail with lemon juice, gin and a dollop of sparkling wine.
Wedding Cakes
Brooklyn, NY, the ultimate incubator of cool, is where we looked for the sweet scoop on this year's hottest wedding cakes. We spoke to Cheryl Kleinman of Betty Bakery to get the top five cake trends.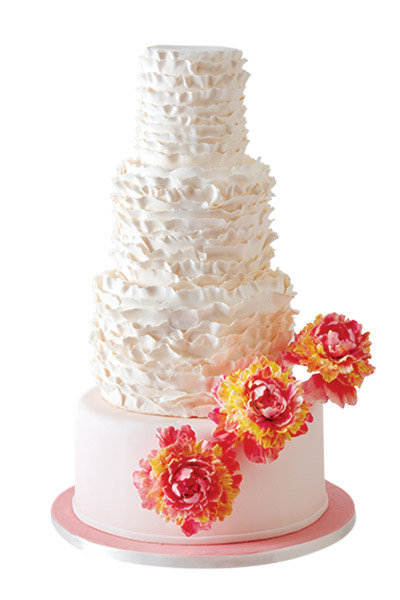 Photo Credit: Lulu Cake Boutique
1. Color: Ombré is everywhere, and it was just a matter of time until this look made it onto cakes. Cheryl's ombré cakes are frosted in white on the top tier, for example, then tip-toe down from palest to the deepest pink hues. But ombré on the outside is not enough. "The cake is also ombré on the inside, with each layer a different shade."
2. Glitter: In 2014, your cake will shine! Cheryl says the look ranges from a fairy dusting of very fi ne glitter on the top tiers, to wild disco ball sparkle.
3. Texture: The sleek cake is a thing of the past as 2014 moves toward the romantic look of pleats, ruffl es and lush sugar fl owers. Instead of the smooth cake of previous years, the tiers of these cakes are dressed in soft ruffl ed layers, giving them the look of a billowing crinoline.
4. Shape: Think it's hip to be square? Not so much in 2014, when the cake silhouette veers away from square tiers and embraces the classic round. For a cake that's au courant, vary the height of your tiers. "One layer may be four inches, and the next six."
5. Flavor: "Right now flavor is very driven by season," explains Cheryl. In the summer, choose a lemon cake with lemon fl avor. In the winter, brides are looking for chocolate cakes with rich accents of mocha or praline.
The Music Playlist
Want a quick cheat sheet to the year's hottest sounds? New York society bandleader Alex Donner and Amber Gustafson report.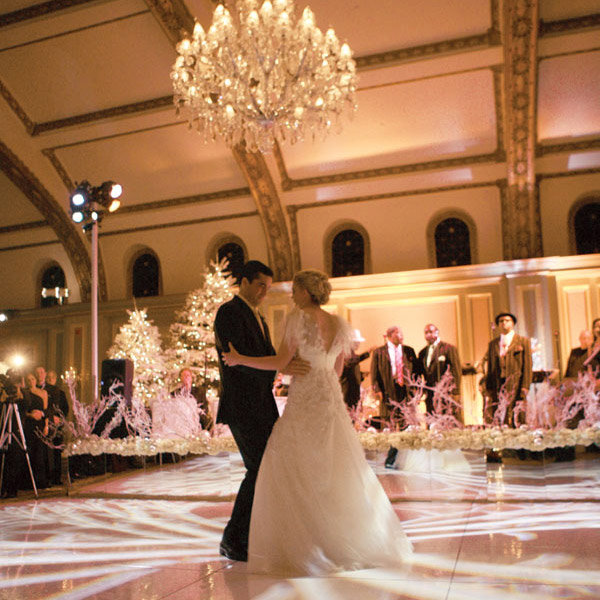 Photo Credit: Red Loft Studios
Step out of the box. Think beyond the string quartet and opt for eclectic music during the cocktail hour, Amber suggests. Bring in your heritage: If a Latina bride, have flamenco guitar, if Jewish, klezmer music.
Be true to your theme. Alex Donner's clients are requesting music to go along with wedding themes ranging from films (The Great Gatsby) to locales (like France — all songs were performed in French!).
The element of surprise. Stick to songs that your guests know and love but mix up the musical styles. "Think a bluegrass band playing 'Hava Nagila' or a string quartet playing Coldplay," Amber says.
Make it memorable: Donner creates bespoke favors featuring his couple's wedding music, performed live by Donner and his orchestra, then later transferred onto a CD or mp3.
Wedding Favors
The top two most popular favor trends still reign supreme, reports Beth Helmstetter.
First on the list is the edible gift — think truffles, petits fours or a tiny box of three perfect pastel macarons.

Photo courtesy of Laduree
The other major trend remains donations. Share your love with a gift to a favorite charity, made on behalf of your guests.
Looking for a chic wildcard idea? Forgo reception favors altogether for a "pillow present," a little welcome gift left for guests at their hotel. Who doesn't want to arrive from a big trip to find milk and cookies, or wake to a breakfast surprise of scones and local jam?