Tag Archives:
Food and Drinks
We asked top bridal bloggers to share their most giftable goodies.

Photo Credit: Gemma Comas
It's all about DIY, says Amy Atlas. "I've seen make-your-own pizza topping bars, mashed potato and French fry bars and pancake bars for the day-after brunch. On the dessert side, I've seen milkshake bars, popcorn bars, gelato and donut bars, and for drinks mimosa bars and end-of- the-night juice bars and coffee bars."
Bar Design Basics
► Use fabulous furniture. Set your food or drinks on a gorgeous vintage dresser, a gleaming grand piano or on a rustic table to add a dazzling sense of design to your venue.
► Plan strategically to avoid lines. Brian Worley suggests positioning bars where lines will not extend onto the dance floor or around corners; working with your venue manager will help determine the best bar placement.
► Create a great backdrop. It might be an oversized sign for your signature dessert bar, a chandelier hung above your beverage bar or a dramatic picture window behind a grand vintage table.
► "Bars are a form of functional décor," says Mark Kingsdorf, director of business development for bar rental company JustBars.com. "They are a place for social interaction," so place them creatively around your venue, indoors and out, keeping them out of the corners of your space.
► Create theme-inspired ID signs to let guests know what the food, drink or dessert is, using print motifs like flourishes and chevrons that match your reception decor.
► "Pick both tall and low vessels to show off your food and to make the table visually interesting," recommends Amy Atlas.
► "Make sure your serveware pieces fit the sensibility of the theme. If the the event has a vintage look, choose milk-glass or hobnail vessels. If the event has a modern sensibility, choose vessels that are angular with clean lines."
► "Select flat serving pieces for food items that can't be piled up (like cupcakes) and choose compotes and bowls for food items that can be piled high (like macarons and truffles)."
► Bring in a big focal point behind the bar. "A printed backdrop is a great idea, but if you are not planning on printing a backdrop, you can use fabric bun- ting, poms, or hanging strips of fabric or yarn."
Amy Atlas's Dos and Don'ts
Don't place your bar in an area where waiters can't get to it to replenish.
Don't place the bar too far away from the kitchen.
Do allow enough space for there to be good flow around the table.
Do label anything containing nuts.
Do choose vessels with wide enough openings; don't pick a container for candy that guests can't get their scoop into!
Do provide enough scoops and tongs.
Do hire enough staff to replenish bar fare.
Next: How to Serve Your Main Course ►
The main event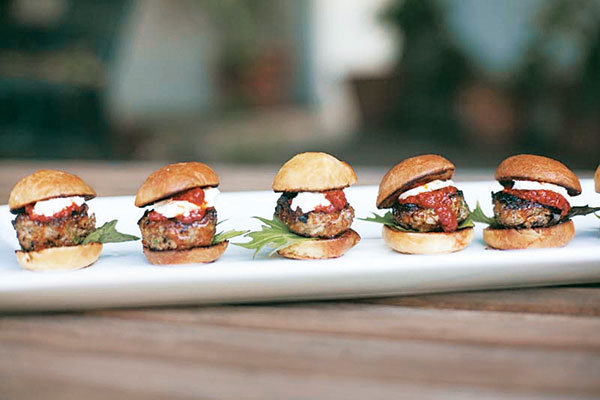 Photo Credit: Annie McElwain
"Build your own" burgers, sliders, ceviche and more: When it comes to burgers, mini sizes are your best bet, since they're easier to handle, and guests can fill their plates with a trio of different burger types: sirloin, tuna or veggie, for example. Topping choices can include onions, mushrooms, bacon plus classics like tomato and pickle slices. "Provide a selection of cheeses in addition to classic cheddar, like gorgonzola, blue cheese and brie," says Andrea Correale, celebrity chef and owner of Elegant Affairs in New York City and Long Island. Or how about mini-sandwich sliders of smoked pulled pork and barbecued brisket along with mini Reubens on rye and bite-size crab cakes?
Brian Worley, celebrity event designer at Your-Bash.com, likes to do a raw bar with oysters, littleneck clams and shrimp, but takes it further with a customized ceviche station that allows guests to pick their raw seafood ingredients, then have a server mix everything together in a cocktail shaker and serve it in a martini glass.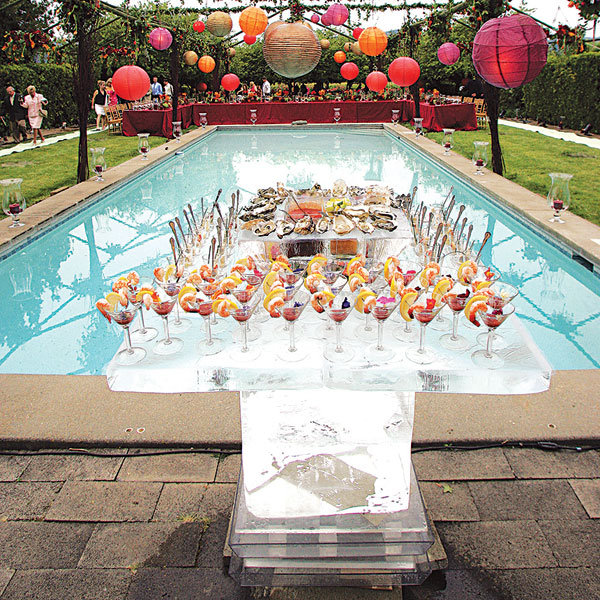 Photo Credit: Sherman Chu, courtesy of Sasha Souza Events
And who among us could resist the siren call of a potato bar? Audrey Chaney of Botanica Floral Design styled a recent spuds bar with "potato wedges, potato skins, twice-baked potatoes, french fries and, yes, Tater Tots." The add-ons are endless, from bacon, chives, mushrooms to shredded cheddar and sour cream and beyond. Don't forget the gravy!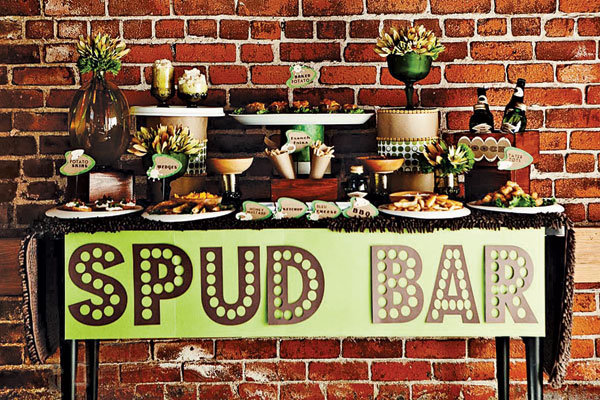 Photo Credit: Milou + Olin Photography
Andrea Correale serves up pear-shaped potato croquettes.

Photo courtesy of Elegant Affairs, Inc.
Next: Fabulous Dessert Ideas ►
Just desserts
Tiffany MacIsaac, executive pastry chef of Birch & Barley, Iron Gate and Bijoux Patisserie Exclusivité in Washington, DC says that pie bars are not only a growing trend, but a budget-saver as well, since a bountiful pie bar can be created for less than the cost of a wedding cake. "For fall weddings, we like to present the pies in a rustic, farm table setting, and include such flavors as a double-crusted apple pie (add- ing bacon for a gourmet twist), sweet potato pie, pumpkin pie and other seasonal flavors." Other popular pie bar flavors include cherry, blueberry, boysenberry, and chocolate pecan. Correale likes to go with bite-size triangles of sugary pie-crust "fries" for crunch and flavor, as well as homey blueberry cobbler, apple crisp and banana bread pudding. "Anything on a stick is a super-popular dessert bar option, from Rice Krispie bars to mini cupcakes to cake-ball pops," said Worley

Photo courtesy of Elegant Affairs, Inc.
When it comes to adding color to your bar offerings, look no further than the fabulous French macaron. These dainty, cream-filled sandwich cookies come in a range of colors, from wedding theme-matching pastels to fashion-forward neons. You can take a bold monochromatic approach or go for a rainbow coalition of hues. The choice is yours.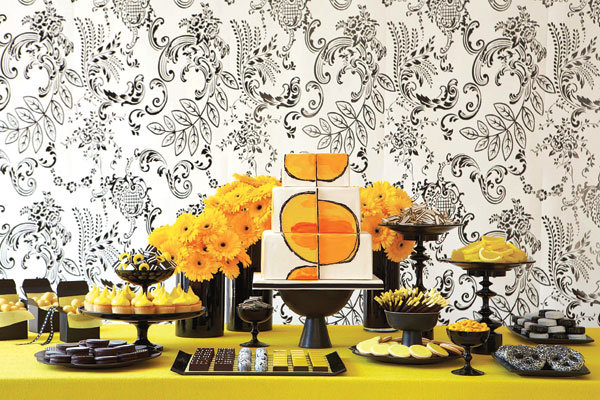 Photo Credit: Gemma Comas, courtesy of Amy Atlas
S'mores bars are particularly suited to every iteration of rustic celebration, from country garden to nighttime "glamping" campfire-fueled fêtes. Your chocoholic guests will be in heaven. Andrea Correale likes to riff on the theme, offering a deconstructed version in a bowl layered with chocolate, graham crackers and marshmallow fluff and marshmallows dipped in chocolate then covered in graham-cracker crumbs.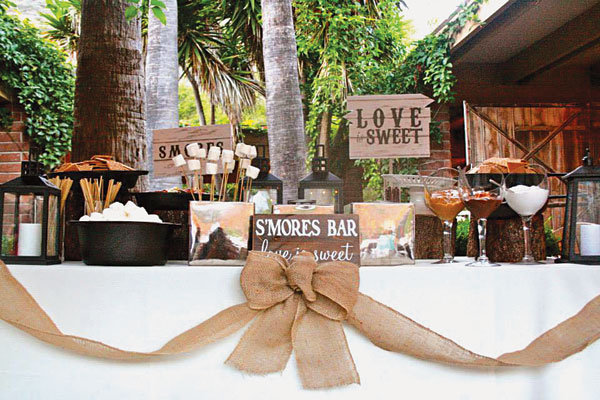 Photo courtesy of Hollywood Candy Girls
Donuts are another fast-rising dessert star, says Tiffany MacIsaac, who proposes donut "trees" and platters of apple cider donuts, pumpkin glazed and chocolate versions, plus every groom's favorite: the maple-glazed, bacon- topped donut. Also coming on strong: cookie bars, says Jackie Sorkin, owner of celebrity-favorite Hollywood Candy Girls. "A cookie bar can feature your favorite cookies from when you were children, even if it's just Oreos." Other picks include frosted sugar cookies, oatmeal, shortbread, peanut butter and macadamia nut cookies (popular for beachy destination celebrations).

Photo Credit: Abby Rose Photo
Candy bars are tied with macarons when you want to play up specific wedding colors, and cupcake bars remain a perennial favorite, in both newsier flavors like red velvet and the traditional white-frosted cupcake that can be arranged in tiers beneath a small wedding cake layer at the top of the cupcake "tree."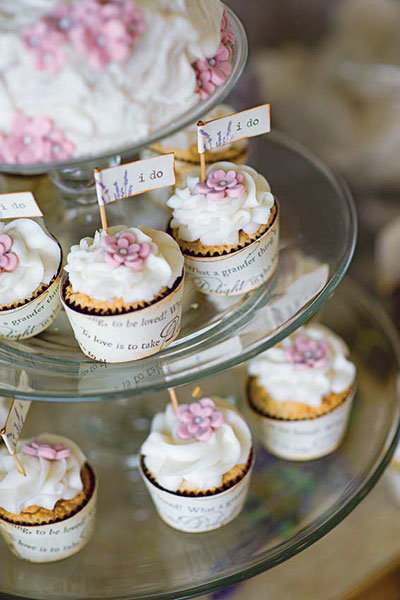 Photo Credit: Tori Ava Photography
Drink up
"I love to pair signature drinks with either the theme of the event or with the season," Atlas says. "I love bringing in seasonal flavors as well. That first drink sets the stage for the event and gives a taste to your guests of what is coming up. A warm white chocolate cocoa could be a great drink for a winter white wedding, while a pumpkin spice drink could be great for the fall." For a summer celebration, consider a sangria bar. Colorful and delightfully fresh and fruity, sangria ranges from traditional red to white-wine based, with peach, pear and pomegranate bases in between. For a customized, DIY approach, consider a glass-pitcher lineup of different sangria "bases," with bowls of assorted fruits to mix in as desired.

Photo courtesy of Maggie Lord
Whiskey is trending, and Johnique Woods, co-owner of The Posh Knot Event Management, Planning and Styling in San Diego CA says, "We hired a mixologist to man the groom's whiskey bar at a recent wedding. Guests enjoyed their whiskey straight up or mixed with mint and peach tea and stirred with a sugar-cane stick."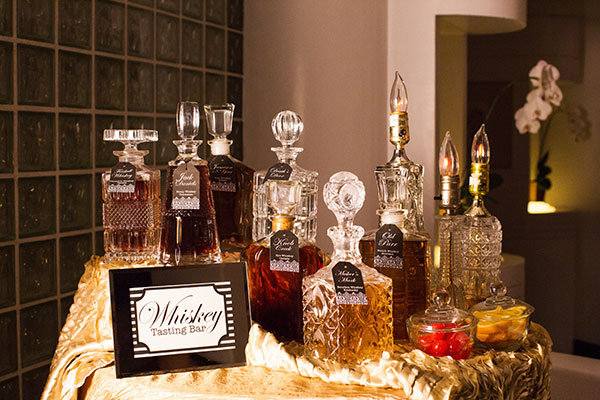 Photo Credit: D. Park Photography
A sparkling wine bar featuring various fruit juices helps stretch your champagne or prosecco supply, making this a great budget saver. Cocktails might feature pomegranate, raspberry, pear, orange or other juices, with a berry dropped into each champagne flute for effect.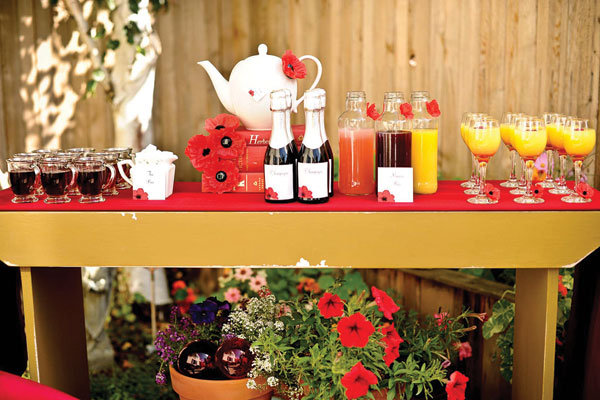 Photo Credit: Tori Ava Photography
A beer bar is another budget-friendly option, especially now, with craft beers having a major moment. Include a range of flavor profiles from light and bright to heartier ales and stouts. Frosted mugs add the perfect chill effect.

Photo Credit: Milou + Olin Photography
To keep energy up: "Coffee bars are great," Atlas says. "I'm seeing exotic blends, iced-coffee or cold-brew bars and steam-punk-styled coffee bars." Or consider a self-service iced-tea bar, offering pitchers of sweet and unsweetened tea, peach and berry tea and of course a pitcher of lemonade so guests can make their own Arnold Palmer blend. Give these non-alcoholic drinks signature "cocktail" names as well, for a festive flourish. And a lineup of bright and colorful sodas in retro-style glass bottles creates a vibrant non-alcoholic bar experience for both nondrinkers and kids.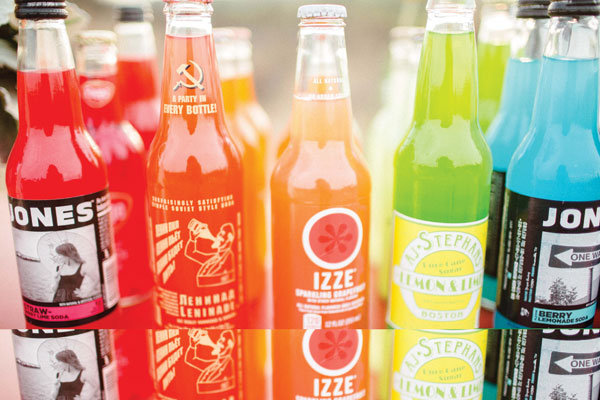 Phot Credit: Leylla Badeanlou of Imagery with Impact